Let's face it, most children aren't naturally organized. They're too busy being kids to worry about that mundane stuff. 🙂 As parents, it's up to us to set the example. If our bedroom is a mess, we'll have little hope of our children's rooms being any different.
What is needed is a plan. Ready? Let's divide and conquer!
Start small (no pun intended). Teaching your children at a young age that they need to make their bed BEFORE they head down to breakfast is a good place to start. Don't expect the bed to look as good as it would if you made it, and of course, don't let them feel like you're not thrilled with how they did it. 🙄 Have very young children start out small, such as tidying up the pillows and comforter. Later on as they're a bit older you can expect the sheets to be tucked in and the bedspread wrinkle free (sort of). Making the bed is the second thing I do in the morning. I don't leave the room until it's made, and the general rule between Fisherman and I is the last person out of bed makes it. For me, if the bed isn't made, it doesn't matter if the rest of the room is spotless. It just looks messy. Sorta like dirty dishes in the kitchen sink.
When our daughter was small we made sure she put away whatever toy she was playing with before starting to play with a different toy. If we didn't do this, toys would pile up very quickly and become that much more difficult and time consuming to put away. Make sure their toy containers are reachable and clearly labeled so they know what goes where.
Rotate toys frequently. Just because they may have lots of toys, doesn't mean they all have to be accessible at any given moment. It's a good idea to keep some toys out of sight for a few days or weeks. Children get bored easily, but you'll find if you put some toys away for a while, when you reintroduce them their interest is peaked once again.
Have a simple rule….if they drop it, they must pick it up. I like to say 'leave a room exactly as you found it'. Does it always work? Heck no, but it gives a point of reference and something to work towards. Make sure they have a hamper for dirty laundry, whether it's in their room or the bathroom.
At least once a year, go through their toys and clothing with them and donate what they no longer want or need. If you're thinking you'd like to save some things for possible future children or grandchildren, make certain everything is either in an attic space or basement and completely out of the way and not taking up precious real estate in your living areas.
I have seen many lovely homes become overwhelmed with toys. Toys in nearly every room in the home, to the extent that the rooms are not usable for their intended purpose. If your home is large enough, I recommend having one or two areas that are designated 'play zones'. If you're in an apartment or small house this can be very challenging, so you need to be especially creative with toy organization and storage. Think about repurposing furniture pieces. It seems lots of families are opting out of armoires in favor of flat screens that are in full view. Before you get rid of that armoire, consider using it for toy storage. Ditto for console tables. They don't always need to be used for china and linens, right?
Here are a few storage ideas that are great for children's rooms, and some would work nicely in a family room.
The Trofast line of toy storage from IKEA has been around a while, and for good reason. Reasonably priced, sturdy and practical, they get the job done. You can use any color(s) bin you like, and add on for additional storage.
This piece is a great little design that also adds functionality to a child's room. It can certainly be used as a doll house, but I think it would work nicely for book storage as well. It's a bit pricey at around $800, but if you happen to have basic carpentry skills (or know someone who does), it could easily be duplicated for a fraction of that, and I think it would be a fun project!
What's not to like about this adorable wall pocket? If moose aren't your thing, you can get them in a myriad of designs, including frogs and dragons.
I'm partial to trunks for toy storage. True, they don't always hold that much, but one of the big advantages is they can grow with your child and stay around for many years. When your children outgrow them for toy storage, they can be used for books, out of season clothing or bedding.
This next item is great for under bed storage, or putting away those toys for a few weeks that I mentioned earlier. Again, this is an item that your child will never outgrow. Score!
These next few items would be right at home in a family room, basement or living room.
Remember that challenging apartment setting? It's super important to have items that do double or even triple duty. Here's an ottoman that can store toys as well as provide extra seating. It can even be used as a cocktail table with a large tray placed on top.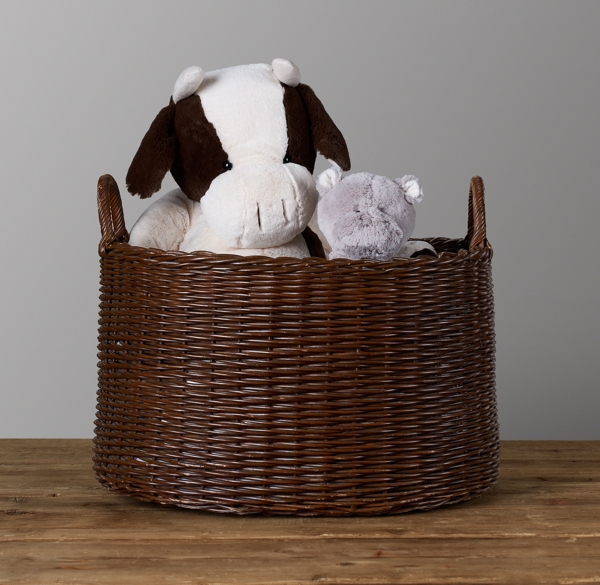 Giving this armoire an expected paint and stencil treatment really makes it pop. I'm not sure I would have chosen this color, but I have to admit it's growing on me.
How cute are these?! This was a 'why didn't I think of that' moment when I saw them. So practical too!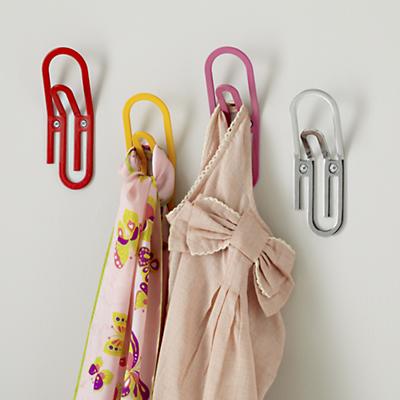 Source
The idea of a locker in a child's room took some getting used to for me, but now I've totally warmed up to the idea. Maybe it's the cool colors that are available that has won me over, or maybe it's because they're super practical for storing sports equipment and if your child gets tired of it you can always put it in the garage, basement or attic.
One of the biggest disadvantages of bin storage is we tend to forget what's inside. Problem solved!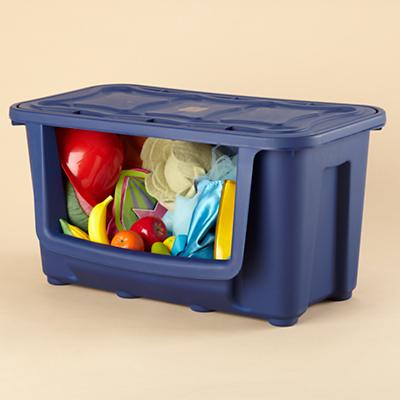 Source
Finding storage for children's toys can be challenging, but also fun! There are so many terrific items on the market that you're sure to find something you will like, will be practical and useful and will serve you and your child for many years.
What are your thoughts regarding children's toys and how they should be stored? What works for you in your home?
Partying At